Wilbur "Wib" Henry
Wilbur "Wib" Henry, passed away Tuesday, Oct. 24, 2000. He was born 2 Feb 1919 in Somerset County, Pennsylvania, the son of Harvey F. and Alice Mary (Liston) Henry.
Wib is shown above with Kay Lynn (Younkin) Wilson, left, and Barbara (Younkin) Park.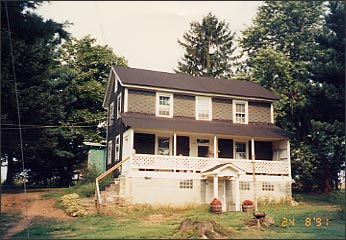 Wib and his sisters, Oma and Vida, resided on the historic Frederick Younkin (1763 - 1843) farm. One of Wib's greatest joys was the annual Younkin family reunion. Each summer he took great pride in showing reunion visitors the family farm and memoribilia. The is a photo of the historic home of Wib and his sisters which is located on the original tract of the Frederick G. Younkin land
| | | |
| --- | --- | --- |
| Below, Wib shows visitors, Nesta and Chuck Rosendale, Avis Engleka and Diana Russell, the old family waffle iron, a pair of crutches and the family's YOUNKIN branding iron. | | |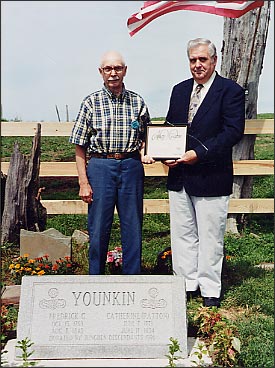 Wib Henry receives plaque for the Century Farm designation from the State of Pennsylvania (a farm owned by one family for more than 100 years). Wib is standing in front of the new Frederick G. and Catherine (Patton) Younkin headstone purchased recently by descendants and placed in the Frederick G. Younkin cemetery on the Frederick G. Younkin farm.
[Wilbur Henry, Alice Mary (Liston) Henry, Salome (Younkin) Liston, Frederick F., Frederick G., Henrich]