Ashland (Ohio) Times Gazette - October 26, 2000
Thomas "Tom" Younkin, 72, of County Road 1095, Ashland, passed away Tuesday afternoon, Oct. 24, 2000, at his residence unexpectedly of natural causes.
Tom was born Feb. 26, 1928 in Fayette County, Pa., to Otto R. and Mildred Coldren Younkin.
He had been a resident of Ashland since 1963, having been a former economics teacher at Mapleton High School, serving 10 years as the C.E.O. at the Ashland Chamber of Commerce, and was the former owner of Younkin and Sons Contract Carriers Warehousing/Carpet Sales. Recently, he was a real estate and warehousing manager.
His memberships include the Trinity Lutheran Church, where he formerly served on the church council and was a Sunday school teacher, a member of the Gnat Boxer Square Dance Club in Wooster, the Longhorn Camping/Social Club of Wooster, several nationwide camping clubs and he formerly served as the secretary with the Rotary Club and had been a member of the Ashland County Fair Board and the Ashland Shriners Club.
On Nov. 12, 1950, Tom married Evelyn Metcalf who survives; also surviving are two daughters, Penny Jones of Ashland and Cindy Waldrop of Pace, Fla.; four sons and three daughters-in-law, James and Nancy Younkin of Bowling Green, Ky., Jack Younkin of Tampa, Fla., Jeffrey and Lynn Younkin of Norton, Ohio, and Jody and Patti Younkin of Cincinnati, Ohio; and seven grandchildren, Heather Baum, Joshua and Caley Boley, Brooke and Chelsea Jones, and Lyndsay and Christopher Younkin.
Tom is preceeded by one brother, William O. Younkin, in 1998. Services will be Friday, Oct. 27, 2000, 11 a.m. at Trinity Lutheran Church with pastor Sanford Mitchell officiating. Burial will be in Ashland Cemetery. Friends may visit with the family Thursday evening 7 to 9 p.m. at Heyl Funderal Home, 227 Broad St., Ashland, Ohio.
The family suggests memorial contributions may be made to Habitat for Humanity, Dale-Roy School, the Cleveland Clinic Foundation or the charity of the donor's choice.
| | |
| --- | --- |
| Tom and Evelyn at a Younkin Reunion Breakfast | |
Tom and Balaam Younkin's Civil War Stone
at Jersey Church Cemetery

I met Tom and Evelyn for the first time in the late 1980s. When I decided to rekindle the Younkin Family News Bulletin I mailed copies of the first issue to over 500 Younkin families across the country. Tom was the first one to respond to this mailing. He sent me a wonderful letter and told me all about himself and his family. It turned out that Tom's dad, Otto Roosevelt Younkin, was the president of the 1930s Younkin Family Association in Pennsylvania. I was thrilled just to hear from one of those 500 people but Tom's enthusiasm truly warmed my heart.

Tom was always there for us. From the time we started our new Younkin family activities he always supported our endeavors. At the first reunion in Somerset in the late 1980s he brought his father's collection of family records from the Younkin Association. I know Mark Miner shares my feelings here, these files and pictures were records we never dreamed we'd ever see. Tom's generosity has helped thousands of cousins find their family history.

But even more Tom's smiling face and heartwarming ways truly made him the patriarch of our family! He always made each and every one of us feel 'right at home' at the annual family reunions. He is sadly missed by all of us.

- Cousin Donna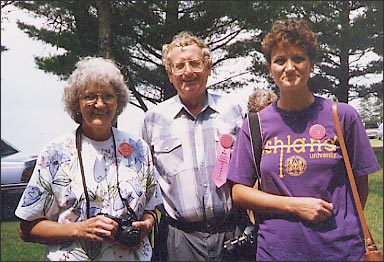 Tom, Evelyn and daughter Penny Younkin Jones