My interest in the family history of Jesse James stems from an entry made by my GGGrandfather Dr. Basil Dorsey Elder in his journal. He stated that he'd "doctored Jesse James" and that he was a cousin. They share several lines of the family.
Below you'll find a chart of Dr. Basil's daughter, Florence Josephine Elder Puckett (my great grandmother). Interestingly of the names listed at the far right, ALL of the following share the same ancestor "Edward Darcy/Dorsey": Owen Elder, Ann Nancy Dorsey, Lancelot Dorsey, Henry Dorsey*, and Rezin Howard.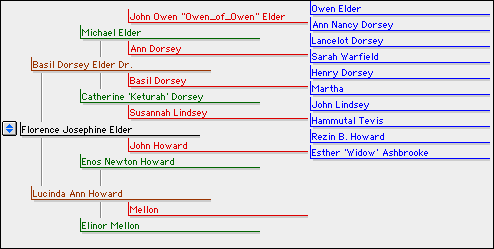 Henry Dorsey's parents were Judge Nicholas Dorsey and his wife Sarah Griffith. They were also the parents of Rachel Dorsey who married Anthony Lindsay.
Thus Jesse's ancestry connects with Basil's at Judge Nicholas Dorsey - at least for one line.
Apparently Jesse's wife, Zerelda Mimms, was also his cousin but I've never worked out her ancestry.- Donna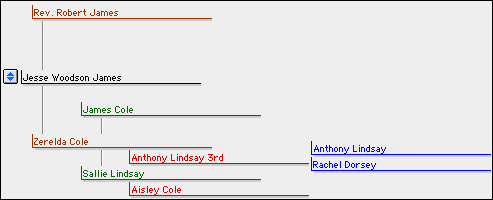 Click here for the History of Frank and Jesse James