Thomas M. was wounded in the leg at Pittsburg Landing (Shiloh) on April 6 or 7, 1862. He died three days after being wounded in the head at Chickamauga in October, 1863 (c). Robert seems to have spent his entire enlistment in a hospital. Records show that he received a disability discharge on March 17, 1863, because of total paralysis not directly service related (polio?). His military pension and some later census records show that he could do no meaningful labor and could only walk with difficulty with a stilted gate. Following the war he married Juda Bozarth, and fathered 6 children. However, his position in the family is probably best told by the inscription on his grave marker.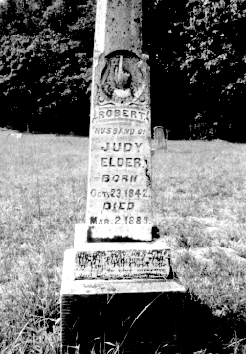 Figure 3 - Grandson Robert's grave marker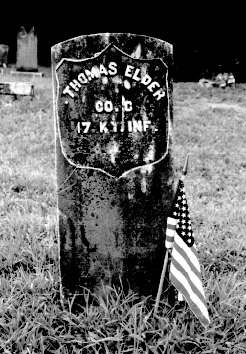 Figure 4 - Son Thomas, Jr.'s, headstone
Figure 5 - The Elder graves at Caney Creek United Baptist Church. September 1997
Thomas, Jr., received a slight wound at Pittsburg Landing (Shiloh) April 6, 1862, but seems to have spent most of his enlistment in a hospital or AWOL. His service records show that most of his AWOL time was in Spring and Fall, which could indicate he still had to get the crops sown and harvested. He, too, qualified for a disability pension because of severe hemorrhoids "causing him to pile continuously" and a hernia "plainly visible through his clothes" (15).
After the War — Major changes occurred in the family following the war. Thomas's daughters remained in the area with their husbands' families. Of the sons, Robert's children generally stayed in Grayson County. William's sons moved to neighboring Butler County where Henry and Perry became timber barrons (16). George W. and his family also moved to Butler County and then on to Posey County, Indiana, where they were tenant farmers. Noah and Thomas, Jr., stayed on in Grayson County.
Land records that would provide many missing details are apparently lost to time. The Confederates burned the courthouse in Leitchfield on Christmas Eve 1864. Any records that may have been saved were lost in subsequent courthouse fires by the turn of the century. However, their graves give clues to where their land probably was.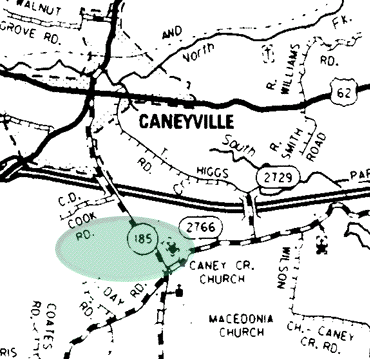 Figure 6 - The green area is the location of ancestoral Elder lands and graves.
Most of the Thomas Elder clan is buried in the Elder-Woosley-Anderson cemetery at Caney Creek United Baptist Church, just south of Caneyville, Kentucky, and the Western Kentucky Parkway. The present church structure is located on a knoll within sight of the early Elder graves. Present day church trustees say the graveyard predated the formation of the church. It is entirely possible that Thomas or his children provided the land the church is built on. Unfortunately, the church records burned in a fire that leveled the building in 1952 (17).
Directly west of the church, across State Route 185, are the graves of William and his sons William, Jr., and Squire. They are located on the present Owen Day farm. The three graves are in an overgrown copse of sassafras trees on the south side of a gently sloping hill. Local oral history says that this was once a large Elder graveyard, but previous owners of the farm uprooted the other grave markers and hauled them to the nearby creek in order to cultivate the land.
The early generations of Elders are woven into the history of Grayson County from its very beginning. They married Campbells, Byers, Sirles, and Kings. Later generations married into Mudds, Woosleys, and Roses, among others. A review of the local phone book shows the Elder name has nearly died out in modern day Grayson County. But their pioneer genes live on in the families that remain.

---
ENDNOTES (in red):
(a) The documented history summarized here fits well with family stories of frequent trips to Warren County by the Thomas Elder clan to visit relatives there.
(b) The transcripted record actually shows "Hamble" County, Ohio, as her place of birth. I believe it should be Hancock County for the following reasons: 1) There is not now and apparently never has been a Hamble County in the state of Ohio, 2) there is no record of Mary Ann's birth or any tax records of father Thomas in neighboring Ohio County, KY, 3) Hancock County did exist in Ohio in 1825, and 4) there were Elders of Pennsylvania descent living in Hancock County, Ohio, at the time.
(c) Thomas M. was reputed to have been buried in the Union Cemetery in Chattanooga. However, the grave index located at the site does not contain his name.
FOOTNOTES (in red):
(1) 1850 census data on Thomas's birth place.
(2)Warren County Old Surveyors Book 'A', page 626
(3)Ibid, page 45
(4) Warren County Order Book 'B', page 74
(5) Ibid, page 2
(6) Ibid, page 214
(7) Ibid, page 216 for example
(8) Warren County Order Book 1, compiled by Sandra Gorin, 1992
(9) Warren County Marriage Register, Book 'A'
(10) "Warren County Marriages, from the Original Bonds and Consents", by Thomas, Rabold, and Price
(11) Warren County Marriage Register, Book 'A'
(12) 1850 census data
(13) Ohio County Marriage Licenses, File Book 1
(14) Grayson County, KY, Death Records, ©1984, Francis Ingmire
(15) Military service information taken from personal service records in the National Archives. Previously published in The Elder Family Newsletter, Volume 2, Number 4.
(16) Kentucky - A History of the State, by Perrin, under the listing of Henry Elder of Butler County
Interview with Charles Embry, church trustee, September 1997.
---
About the author:
Dan Elder is a US Navy vet and a technical training supervisor in the nuclear industry. He got the genealogy bug from his mother, Janet Elder (member #88). He is the father of 6 little Elders and pursues his family history to leave a legacy to his kids. Dan believes he is a member of the Pennsylvania branch of the clan, but is still trying to make the connection.
To Contact the author:
Snail Mail:
PO Box 2001 Vidalia GA 30475-2001